Interior Designing >> Modular kitchens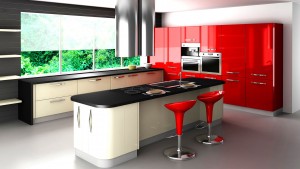 We at facilitykart have experienced in designing and manufacturing modular kitchens and kitchen components.We at facilitykart use PU high Gloss, Solid Wood & veneer from lowest to highest range.Our highly skilled team of kitchen designers is experts in all types of designs.They are also very careful in selecting the wood to make our kitchens durable.We offer the best range & most popular kitchen equipment's and kitchen appliances.The designs are always elegant, unique and fresh and are sure to become a sense of pride and delight for every client.We will help you plan and customize your kitchen structure & design to fulfill even your smallest requirements.We have been a trendsetter in modular kitchen design and technology. Our Designs of Kitchen Cabinets, Modular Kitchens and Wardrobes are organised and offer ample storage by optimizing the available space.
Service:Modular Kitchens
Details:We provide Professional service,expert staff,High quality machinery technology,termite free wood and express delivery to your doorstep.
FacilityKart is the emerging enterprise for completing your all home need work hassle free. We also have expertise in all electrical, plumbing and carpentry services.