Electrical services >>Complete electrical work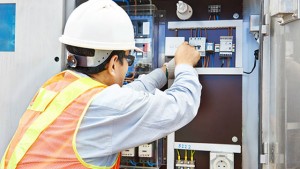 We at facilitykart provide electrical services of all the electrical parts that includes Fan repair,Geyser repair,mcb change etc at the cheapest cost.We provide electrical services that provide instant solutions to all electrical problems.From fluctuating lights to circuit breaks problems, from exposed wires in the house to replacement of switches, we fix it all with simplicity.Our professionals are skilled to deal with complex electrical problems you face in your house.By balancing time techniques our technician will deliver the work with exceptional quality at the best possible value.If you are not completely satisfied simply call within 24 hours and we will repair that part for free and make you cheer up.What makes facilitykart different from the other is that we provide 30 days work guarantee if problem arises simply call us and we will repair that without charging anything apart from this we also provide professionals that matches all your needs and satisfy all your requirements.All you need is to just give a call to facilitykart team.
Service:Complete Electrical work
Details:We provide Professional service,expert staff,High quality technology,90 minutes guaranteed service and I.T.I certified technician to your doorstep.
FacilityKart is the emerging enterprise for completing your all home need work hassle free. We also have expertise in all electrical, plumbing and carpentry services.